Effective Date: January 1, 2012
Rodizio Grill Brazilian Steakhouse restaurant recognizes that your privacy is important to you. We are committed to maintaining and using your information responsibly. Our privacy policy describes the information we collect and how we use it.
In the event you have privacy policy related questions or concerns, please contact us by phone, email, facsimile or letter at the following:
Attn: Web Manager
Email: info@rodiziogrill.com
Phone: 1-801-567-05001-801-567-0500
Facsimile: 801-567-0501
Address: 9829 S 1300 E Suite 302 Sandy, UT 84094
Information Collected
We may collect information, including your name, address, telephone number, email address, IP address, user name, password, information about your company or business, information about a gift card recipient, and, when necessary, date of birth and credit card and/or other payment/ordering information, when you:
Place an order from our Website
Inquire about our services or products
Subscribe to receive communications from us via email or register for an account on our Website
Participate in any of our surveys, contests or other marketing events
Submit information for employment consideration
This list is not comprehensive and may change as we add, delete or modify services and/or products we offer through the Website. We may also gather information about how visitors navigate through our Website by using clickstream data gathered with "cookies" and/or other online tools such as "pixel tags."
Use of Collected Information
The use of your information is subject to the privacy policy and terms and conditions of use in effect at the time you use this Website. We collect information that allows us, among other things, to:
Send you newsletters and/or communicate promotional offers that may be of interest to you about all of Rodizio's products or services
Process and fill your orders
Contact you regarding the processing of your order
Improve our products and services
Send information to a gift card recipient
We may use aggregated data that does not identify you personally for any purpose, including, without limitation, research, commercial purposes or improving our Website. We may use your email address to contact you to respond to your inquiries, to provide notices to you or to give you information about our products or services.
Information We Share
We may, and have the right to, partner with another party to provide specific services for us, such as credit card processing, shipping, promotional or other support services. We will provide contact or other information necessary for the third party to provide these services for us. These parties are generally not allowed to use personally identifiable information except for the purpose of providing these services.
We may share customer information with our affiliated companies. We may also share and cross-reference customer information with other companies that provide goods or services that may be of interest to you. If you prefer that we not share this information, please contact us to have your information removed.
We may further share personally identifiable information with unaffiliated third parties if (1) you request or authorize it; (2) the information is provided to help complete a transaction for you; (3) the information is provided to comply with the law, applicable regulations, court orders or subpoenas, to enforce our Terms and Conditions of Use or other agreements, or to protect our rights, property or safety, or the rights, property or safety of our users or others; (4) the disclosure is done as part of a purchase, transfer or sale of services or assets (e.g. in the event that we sell assets to another party, customer information may be one of the transferred assets); (5) the information is provided to our agents, outside vendors or service providers to perform functions on our behalf; (6) the third parties provide goods or services that we believe may be of interest to you; or (7) the information is provided to such third parties as otherwise described in this privacy policy.
California Rights
Rodizio may disclose your personal information to third parties for their use in marketing to you unless you tell us not to. In order to opt out of such sharing or for further information please write to us at: Rodizio Grill, 7370 Creek Road, Suite 101, Sandy, Utah 84093. Please be sure to include your full name, address, email address and specifically what type of information you do not want to receive. Please allow up to 8 weeks to process your request from the date of receipt.
Cookies
A cookie is a piece of data stored on your hard drive that contains information about your computer. Cookies may be used to enable us to track and target your interests for the purpose of enhancing your experience on our Website. Some cookies are deleted once you leave the Website while other cookies remain after you leave the Website so that you are recognized when you return to the Website ("Persistent Cookies"). We may use Persistent Cookies to enable us to provide services to you, including your order history, address book, etc. If you would like to deactivate our ability to analyze your browsing activity, please email us with the specific request to deactivate your cookies. If you reject certain cookies, you may still browse our Website; however, you may not be able to purchase or have access to all our products and services.
e may use third-party service providers to serve ads on our behalf across the Internet and sometimes on this Website. These companies may use information (not including your name, address, telephone number or email address) about your visits to this Website in order to provide advertisements about goods and services. This information is collected through the use of pixel tags or cookies. If you would like more information about this or your choices to not have your information used, please visit http://www.networkadvertising.org/.
Deleting or Changing Your Information
To update your customer information, please email us or contact us at the address above. You can direct us to remove your name from our lists by contacting us by any of the above methods.
Sweepstakes
From time to time we may offer promotions, contests or sweepstakes on our Website. If you choose to participate, we may collect information including your name, age, address, telephone number, email address or other contact information. We may also request other information, some of which may be optional. Participation is subject to any official rules governing that promotion, contest or sweepstakes. The information may be used to conduct the promotion and for other business purposes which may include marketing and may be shared with our affiliates, vendors or third parties in accordance with these privacy policies and the official rules.
Child Privacy
Our Website is not designed to appeal to minors, and you are required to be 18 years of age in order to use this Website or provide information to us. Therefore we do not knowingly attempt to solicit or receive any information from children under 18.
Security
We use encryption technologies when transferring and receiving date from you through our Website. We also have appropriate security measures in place in our physical facilities to protect against the loss, misuse or alteration of information that we have collected from you. Because data transmission over the Internet is never 100% secure, we cannot guaranty the security of any information you transmit to us from our Website and therefore your use of our Website is at your own risk.
You play a significant role in protecting your information. You are responsible for protecting the security of your user name and password. You are responsible for any transaction made using your user name and password.
If you need to communicate with us regarding your credit card or other payment information, please contact us at the address or email address above.
We are not responsible for maintaining the confidentiality of any non-public information that you provide us or post on the Website. If there is information you wish to protect from disclosure to others, please do not provide it to us.
Notification of Changes
The use of your information is subject to the privacy policy in effect at the time of use. We may amend this privacy policy from time to time. We post the current effective date of this policy at the top of the policy. Changes to the policy will be posted in the revised privacy policy with a new effective date on our Website. We encourage you to periodically review our privacy policy, because by visiting our Website, you agree to accept any such changes.
Terms and Conditions of Use
This privacy policy is part of our Terms and Conditions of Use. Any dispute over privacy is subject to this privacy policy and our Terms and Conditions of Use.
© 2012, Phoenix Franchise Group, LLC. All rights reserved.
Effective Date: January 1, 2012
Welcome to rodiziogrill.com ("Website"). This Website is owned by Phoenix Franchise Group dba Rodizio Grill ("Rodizio").
When you visit this Website, you are agreeing that both your access to the Website and your use are governed by these Terms and Conditions of Use ("Conditions").
Users
You must be 18 years of age or older to use, register for an account, transmit/submit/post any content, material or personally identifiable information, or place an order on this Website. By submitting information through this Website you represent that you meet these age restrictions. You are provided access to and use of this Website subject to your compliance with these Conditions. No material from this Website may be copied, reproduced, republished, uploaded, posted, transmitted or distributed in any way, except as specifically allowed in these Conditions.
Terms and Conditions of Use May Change
Rodizio has included the effective date of our Conditions above. We reserve the right to update or modify these Terms and Conditions of Use at any time without prior notice. Your use of this Website following any such change constitutes your agreement to follow and be bound by the Terms of Use as changed. For this reason, we encourage you to review these Terms and Conditions of Use whenever you use the Website. These Conditions supersede all previous notices or statements regarding the Website. Rodizio reserves the right to terminate or discontinue any aspect of the Website in our sole discretion and without any notice including, but not limited to, information or other materials, features and/or hours of availability and we will not be liable to you or any third party for doing so.
Website Contents
All of the content you see on this Website, including, but not limited to, page headers, images, illustrations, graphics, audio, video, and text, are subject to trademark, service mark, trade dress, copyright and/or other intellectual property rights or licenses held by Rodizio, one of its affiliates or by third parties who have licensed their materials to Rodizio.
We grant you a person, non-exclusive, non-transferable license to access the Website and to use the information and services contained here. No right, title or interest in any materials, whether downloaded or not, is transferred to you as a result of any use. Rodizio reserves complete title and full intellectual property and other rights in any content on the Website. No joint venture, partnership, employment or agency relationship exists between Rodizio and you as a result of these Conditions or your use of the Website.
Except as otherwise provided herein, use of the Website does not grant you a license to any content, features or materials you may access on the Website and you may not copy, download, reproduce, modify, rent, lease, loan, sell, publish, transmit, transfer, distribute or create derivative works of such content, features or materials in whole or in part unless you first obtain Rodizio's written permission. Any commercial use of the Website is strictly prohibited, except as allowed herein or as otherwise provided by Rodizio. You may not download or save a copy of any of the content or screens for any purpose except as provided in these Conditions. If you make use of the Website, other than as provided herein, in doing so you may violate copyright, trademark and other laws of the United States, other countries, as well as applicable state laws and you may be subject to liability for such unauthorized use. We do not grant any license or other authorization to any user of our trademarks, registered trademarks, service marks, other copyrightable material or any other intellectual property by including them on this Website.
Trademarks and Service Marks
Below is a non-exhaustive list of trademarks and service marks owned by Rodizio or licensed exclusively to Rodizio for its use in its restaurants and in franchising by The Phoenix Restaurant Group, LLC or other third party. All third party trademarks, product names, and company names and logos appearing on this Website are the property of their respective owners.
Rodizio Grill®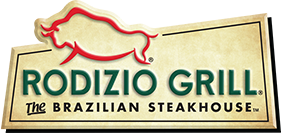 ™
The Brazilian Steakhouse™
America's First Brazilian Steakhouse™
It's the Brazilian Way! ™
Rodizio Grill Racing™
Veggievore™
Meatatarian™
More Than Just Great Steak! –Empresa Certificada™
Submissions and Comments
All comments feedback, suggestions, ideas and other submissions disclosed, submitted or offered to Rodizio on or by the Website or otherwise disclosed, submitted or offered to Rodizio (collectively "Comments") shall be and remain the property of Rodizio which Rodizio may use for any purpose and without compensation, including for commercial purposes. Such disclosure, submission or offer of any Comments shall constitute an assignment to Rodizio of all rights, title and interest worldwide in all intellectual property in the Comments. Rodizio is and shall be under no obligation to maintain any Comments in confidence or to pay any compensation for any Comments.
You may not use unlawful, obscene, profane, threatening, etc. language or content in any Comment. You agree that your Comments will not violate any rights of any third party, including copyright, trademark, privacy or other personal or property right(s). You are and will remain solely responsible for your Comments and their content.
Privacy of Your Information
Your information is subject to Rodizio's Privacy Policy. For more information, see our full Privacy Policy. You agree to the use of your information in accordance with our Privacy Policy.
Product Information
Some of the products displayed on the Website are available only in select locations or available in limited quantities. The prices displayed on the Website are quoted in U.S. Dollars and are valid and effective only in the United States.
Refunds
All sales on this Website are final. Returns or exchanges are not accepted.
Delivery and Shipping Information
At this time we do not ship to locations outside of the United States and Canada. Only orders for delivery to the United States and Canada will be processed. All orders are processed within 24 hours of the next business day on which the order was placed on the Website.
We charge a flat rate of $3.50 for each gift card shipment, sent via certified mail.
Disclaimer of Warranty
This Website is provided by Rodizio on an "as is" and "as available" basis. Rodizio makes no representations or warranties of any kind, express or implied, as to the operation of this Website or the information, content, materials, or products included on this Website. You expressly agree that your use of this Website is at your sole risk.
To the fullest extent permissible by applicable law, Rodizio disclaims all warranties, express or implied, including, but not limited to, implied warranties of merchantability and fitness for a particular purpose Rodizio does not warrant that this Website, its servers, or email sent from Rodizio are free of viruses or other harmful components.
Limitation of Liability
Neither Rodizio, its corporate parent(s), or affiliates, nor any of its and their respective officers, directors, members, managers, employees, agents, successors or assigns will be liable for any damages of any kind arising from the use of this Website, including, but not limited to, direct, indirect, incidental, punitive and consequential damages, loss of data, income or profit, loss of or damage to property, and claims of third parties.
Certain state laws do not allow limitations on implied warranties or the exclusion or limitation of certain damages. If these laws apply to you, some or all of the above disclaimers, exclusions, or limitations may not apply to you, and you might have additional rights.
Indemnification
You agree to defend, indemnify and hold Rodizio and its corporate parent(s), or affiliates, and their respective officers, directors, members, managers, employees, agents, successors or assigns harmless from and against any and all claims, damages, costs and expenses, including attorneys' fees, arising from or related to your use of the Website, your violation of these Conditions, or your posting or transmission of any materials on or through the Website.
Termination of Usage
Rodizio may terminate your access, or suspend your access to all or part of the Website, without notice, in Rodizio's sole discretion. Such termination or suspension of access may occur, without limitation, for any conduct that Rodizio, in its sole discretion, believes is a violation of these Terms and Conditions of Use, is in violation of any applicable law, or is harmful to the interests of another user, customer, recipient, licensor, content or service provider, Rodizio, or its corporate parent(s) or affiliates.
Applicable and Governing Law
The validity, enforcement, construction, rights and liabilities of the parties and the provisions of these Conditions shall be governed and interpreted in accordance with the laws of the State of Utah. In the event of litigation, both parties consent to jurisdiction of the courts of record in the State of Utah and agree that proper jurisdiction and venue shall be in the state and federal courts of Salt Lake County, State of Utah.
Waiver
The failure of Rodizio to exercise or enforce any right or provision of these Conditions shall not constitute a waiver of such right or provision.
Contact Us
To contact Rodizio with any questions or concerns in connection with these Conditions or the Website, or to provide notice to Rodizio, you can email, call, fax or write to us at the following:
Attn: Web Manager
Email: info@rodiziogrill.com
Phone: 1-801-567-05001-801-567-0500
Facsimile: 801-567-0501
Address: 9829 S 1300 E Suite 302 Sandy, UT 84094
Severed Provisions
If any provision of these Terms and Conditions of Use is found to be unenforceable, that provision(s) shall be deemed severed from these Conditions and the remaining Conditions shall be deemed valid and enforceable and in full force and effect.
Miscellaneous
VOID WHERE PROHIBITED: although the information on this Website is accessible worldwide, not all products or services discussed on the Website are available to all persons or in all geographic locations or jurisdictions. Rodizio and its advertisers each reserve the right to limit the provision of their products or services to any person, geographic area, or jurisdiction as they desire, and to limit the quantities of any products or services they provide, in their sole discretion.
The Terms and Conditions of Use constitute the entire agreement between you and Rodizio with respect to this Website.
No Franchise Offering
The information on this Website is not intended as an offer to sell, or a solicitation of an offer to buy a Rodizio Grill® franchise from Phoenix Franchise Group, LLC and should be gathered for informational purposes only. Any offer of a Rodizio Grill® franchise is made by means of our Franchise Disclosure Document only. Rodizio Grill® franchises are available to qualified prospective franchisees only in certain states. At this time we are not currently registered to make offers or sales in the following states: Hawaii, Illinois, Indiana, Maryland, Michigan, New York, South Dakota, Rhode Island, Virginia, and Washington. Some states may require a licensed contractor to perform certain services. Please check your local area for specific requirements.
© 2012, Phoenix Franchise Group, LLC. All rights reserved.